Nadja Abt
Obsession
24 September – 3 December 2023
Opening: 23 September 2023, 5 PM
In her first institutional solo exhibition Nadja Abt critically examines obsessions — the way they are still often considered an almost pathological prerequisite for creating art, and the way they are profitably marketed. Through painting, text, objects and a dance performance she reflects on the conditions of art-making: on the conscious experience, construction and description of creative processes and the genesis of thoughts as an artist, as well as their transfer into a form of feminist-autofictional narration.
For the exhibition Obsession Abt has created three new groups of works in which she reveals her passion for literature, film, advertisement graphics, consumption and the works of other artists. She transforms painting and diary texts into collages, comments on them, reworks and alienates them. It is a process of self-editing in which fiction ultimately outgrows and challenges real life experiences.
Nadja Abt (*1984, lives in Berlin) studied literature, art history and fine art in Berlin and Buenos Aires. Her works have been part of international exhibitions at the HKW Berlin, Casa Triângulo São Paulo, Kunsthalle Freeport Porto and Hamburger Bahnhof Berlin.
curated by Rebekka Seubert
PROGRAM
WED, 20 SEPTEMBER, 6 PM
WORK IN PROGRESS
For members and sponsors: preview of the exhibition and artist talk with Nadja Abt + drinks at the Liquid Currency Bar
SAT, 23 SEPTEMBER, 5 PM
OPENING
Welcome: Marion Edelhoff (Chairwoman of the Board)
Greeting: Hendrikje Spengler (Cultural Office Dortmund)
Introduction: Rebekka Seubert (Artistic Director)
followed by: drinks and snack at the Liquid Currency Bar by Zoe Williams
DANCE PERFORMANCE
6, 7 + 8 PM
Nadja Abt in collaboration with choreographer Esther Murdock and dancers from the Folkwang Hochschule: Jennie Boultbee, Julius Olbertz, Gabriel Gaudray-Donnio, Music: Wibke Tiarks
WED, 8 NOVEMBER, 7 PM
THEME EVENING / KLEINER FREITAG
Obsession with life at sea
LECTURE & TALK
The writer Theresia Enzensberger is the author of the book 'Auf See' (Hanser, 2022), the artist Nadja Abt created the portrait of a woman working on a container ship with her photo film 'Der Tag einer Seefrau an Bord' (2017). At this themed evening, both will talk about their obsession with life at sea in literature and art.
German language event
THURS, 16 NOVEMBER, 7 PM
PANEL DISCUSSION
Autofictional writing in art
Artists Katrin Mayer and Nadja Abt discuss their perspectives on the blending of reality and fiction in autofictional writing with art scholar Dr Isabel Mehl (TU Berlin). In her book 'Im Zeichen des Zweifelns' (Edition Metzel, 2022), Mehl deals with the fictional art critic Madame Realism and the potential of fiction to change art criticism, while Abt and Mayer see writing as part of their artistic practice.
German language event
THURS, 30 NOVEMBER, 7 PM
FILM EVENING #24 / KLEINER FREITAG
7 PM: Guided tour of the exhibition at the Kunstverein
8 PM: Film screening in the cinema at Dortmunder U
STOP, USA, 1995-2012 (135')
Director: Jeff Preis, Language: OV English
The chronicle film STOP by the New York-based filmmaker Jeff Preiss follows the conventions of home movies, focuses on his child's search for identity and rhythmically weaves personal and historical events into the narrative.
SUN, 3 DECEMBER, 6 PM
FINISSAGE, WINTERFEST & JAHRESGABEN
We invite current and prospective members to join us for mulled wine and biscuits as we look back on the year and give a sneak peek at the 2023 Jahresgaben
Kindly supported by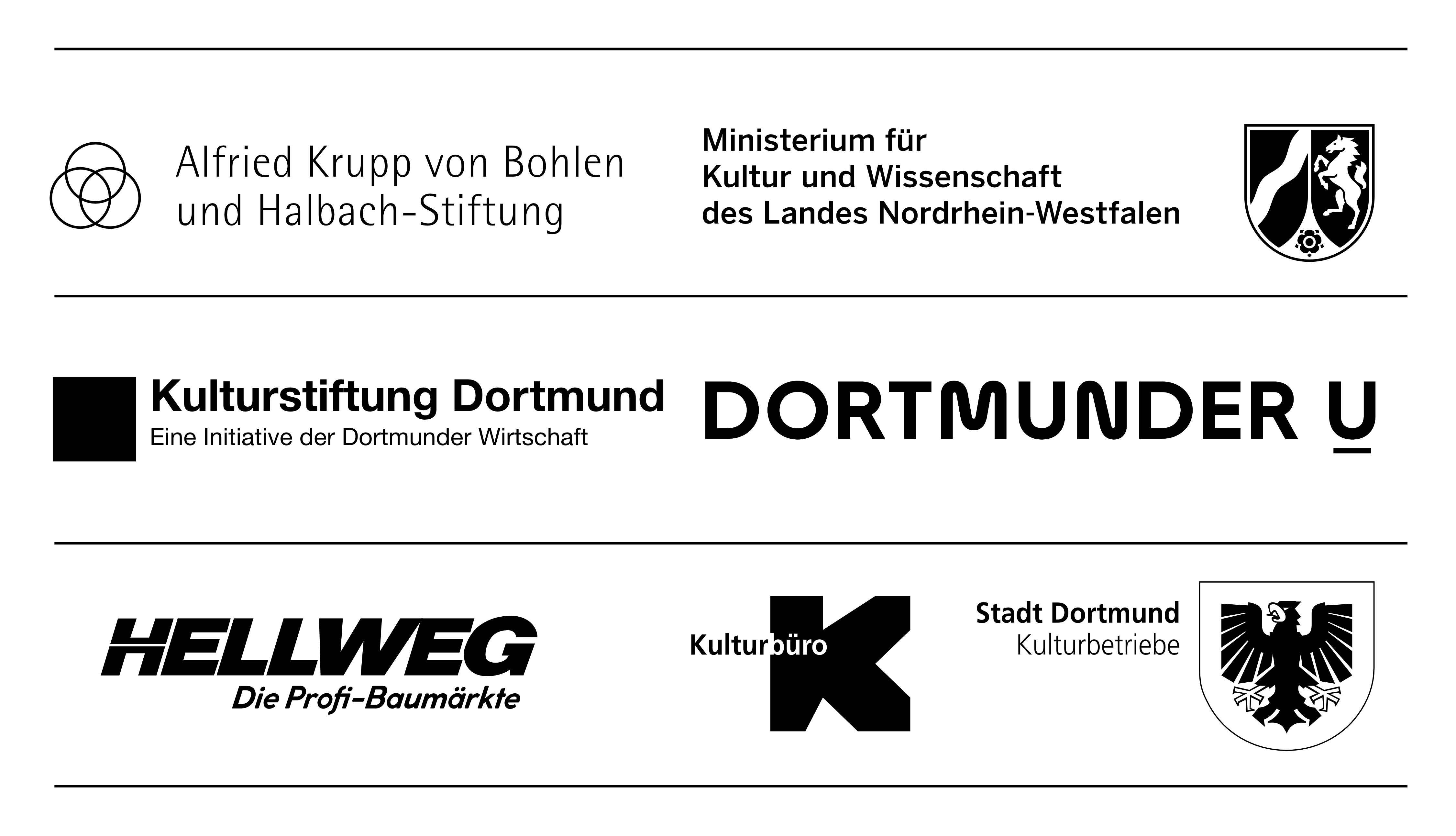 Up