Blade Memory II
a cooperation with CCA Tel Aviv-Yafo
21 May – 31 July 2022
with works by Uri Aran, Oded Avramovsky, Marianne Berenhaut, Max Ernst, Avner Ben Gal, Noa Glazer, George Grosz, I. S. Kalter, Talia Keinan, Martin Kippenberger, Harel Luz, Roy Menachem Markovich, Lee Nevo, Tchelet Ram, Ariel Schlesinger, Shay-Lee Uziel
Blade Memory evokes an aching memory, a memory that strikes to the heart. The exhibition examines the role of artists whose present is marked by the disenchantment that professionalisation, corporate branding and its architectures leave in the individual's sense of agency. Since the 1970s, and increasingly since the New Economy era of the 1990s, the world has accelerated: densified inner cities leave little room for individual expression; the time economy of digitalisation increases global effectiveness, creating not less but more work for some and none for others.
The exhibition takes place in the shell of the new premises of the Dortmunder Kunstverein, formerly used as an insurance office. Through the pandemic, deserted office buildings now stand for a turning point in time: the ruins of the early 2000s office architecture provide a space to look at the world in its status quo, to order it, to contextualise it. Rather than exaggerating and overwhelming, the sober setting of this backdrop allows the art to appear almost incidental, giving it a chance to reclaim its autonomy outside the spectacle.
Blade Memory is an artist-curated exhibition in two independent chapters: The first was on view at CCA Tel Aviv-Yafo in 2021, and we are now pleased to present Blade Memory II at the new space of Dortmunder Kunstverein. Curated by the artists Naama Arad, I. S. Kalter and Eran Nave, invited by Nicola Trezzi and Rebekka Seubert.
PROGRAM
Free admission to all events
THURS, 19 MAY, 6:30 PM
WORK IN PROGRESS
For members & supporters of the Kunstverein
with Naama Arad, Eran Nave, I. S. Kalter and Tchelet Ram
SAT, 21 JUNE, 4-8 PM
OPENING
public, with prior registration
welcome: Dr. Matthias Wiese (vice chairman)
introduction: Rebekka Seubert (artistic director)
THURS, 2 JUNE, 7 PM
KLEINER FREITAG
EXHIBITION TALK
Ory Dessau (freelance curator, Ghent/Brussels) in conversation with Rebekka Seubert
about the temporary, doubt and artistic approaches of a young Israeli art scene.
THURS, 23 JUNE, 7 PM
KLEINER FREITAG
LA DERNIÈRE SÉANCE #18
7 PM: Guided tour of the exhibition at the Kunstverein (Rheinische Straße 1)
8 PM: Film screening in the cinema at Dortmunder U
1341 Images of War and Love, ISR, UK, USA, 2022 (89'), Director: Ran Tal Language: Hebrew and German, Subtitles: English
Registration: kleinerfreitag(ett)stadtdo.de
SAT, 16 JULY, 7 PM
SUN, 17 JULY, 5 PM
SLOW READING CLUB
with Bryana Fritz (USA/BEL) and Henry Andersen (AUS/BEL)
for German or English speaking audiences
The Slow Reading Club's moderated, open reading sessions create a collective experience: lighting mood, sound, interventions and a special spatial setting are used to create artificial situations in which people read together. The literary and philosophical texts are coordinated with the themes of the current exhibition at the Kunstverein and are a shared physical experience that remains in the memory.
Registration: visit(ett)dortmunder-kunstverein.de
TBA
ONLINE TALK & CATALOG RELEASE
Catalog presentation and online artist talk in cooperation with the CCA Tel Aviv-Yafo and the Office of the State of North Rhine-Westphalia for Economics, Science, Education, Youth and Culture in Israel.
In cooperation with

Kindly supported by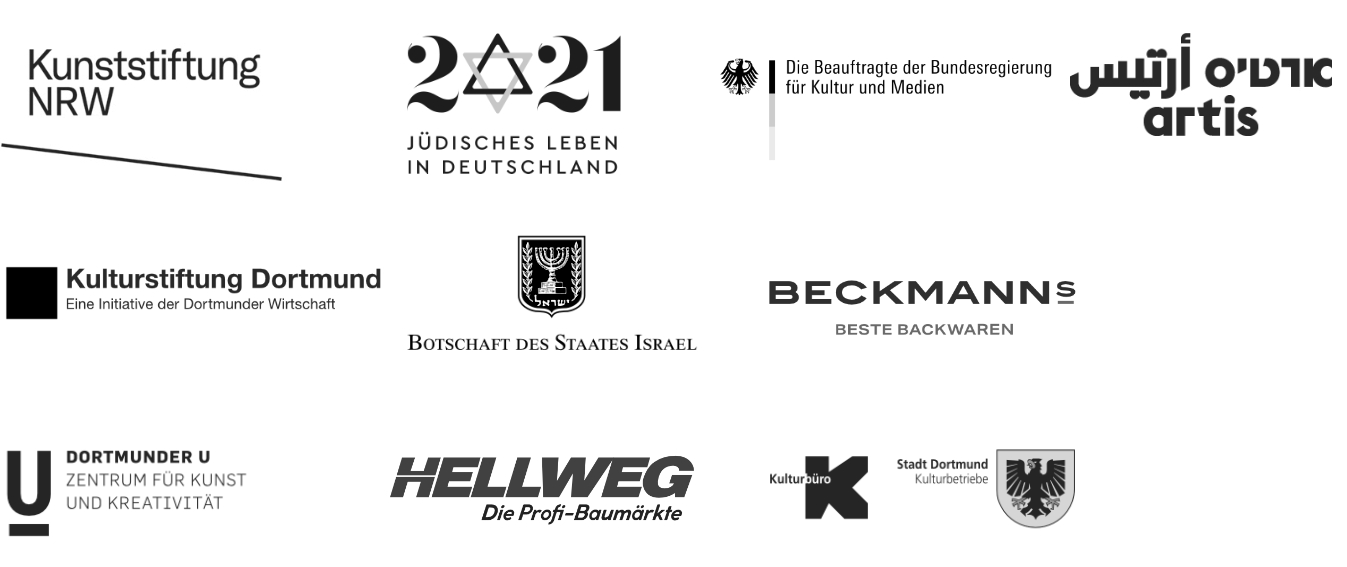 The catalog is supported by

Kindly supported by
Up