Taking my Thoughts for a Walk
Eine Kooperation von Dortmunder Kunstverein und Urbane Künste Ruhr zwischen Westen- und Ostentor
27 February – 21 March 2021
The Dortmunder Kunstverein and Urbane Künste Ruhr invite you to Taking my Thoughts for a Walk, a walking route through Dortmund's city center as a special exhibition format during the pandemic. Starting February 27, 2021, for three weeks you will find around 15 artistic works along Kampstraße, which can be discovered independently around the clock.
Let's take our thoughts for a walk: When actions and decisions are determined by facts and forecasts, the space of our possibilities seems to shrink in the face of reality. Travel, encounters, and living spaces are becoming increasingly virtual, while feelings and physical reality - just like the virus - remain physical. How can balance be restored so that we feel at home in the world? The French philosopher Michel Serres (1930-2019) points out in his book 'Atlas' that we have sought refuge in our heads and in our dreams since the dawn of humanity. In this sense we speak through art: Let's take our thoughts for a walk! (Quote by Esther Adam)
The artistic works placed between Westen- and Ostentor cast a new light on the familiar city: they spin both fictional and real stories and aim to inspire new thoughts and perceptions. Some will immediately catch your eye whilst others are hidden and need to be discovered.
Please take care of yourselves and others during the walk and wear a mask where necessary.
Download the Map
Esther Adam *1988 in Reutlingen, lives in Bremen
Various works from the series 'Perspectives', ongoing
Esther Adam creates drawings and short texts that she applies to window surfaces with transparent gel. In her delicate, sometimes barely visible works, the Bremen-based artist often deals with the complex interrelationship of the individual with their personal and social environment. Her poetic works appear again and again on various glass facades as companions on a stroll along Kampstraße. So keep your eyes open!
Daihatsu Rooftop Gallery
from 27.02.2021: Gabriele Edlbauer Team Austria - I am from Austria, 2020
from 06.03.2021: Helmut Heiss Reif für die Insel, 2020
from 13.03.2021: Wolfgang Obermair The Turning Point, 2021
The Daihatsu Rooftop Gallery is a mobile exhibition display for contemporary art. Since March 2020, Peter Fritzenwallner has used it to make sculptures that would otherwise only be seen in art spaces, allowing for public visibility, even in times of social distancing. Initially on the road in the Austrian Alps, the yellow car roof gallery first brought art to the villages and then to the capital in Vienna. And now: Dortmund! There might be no beach under the pavement here, but there are plenty of opportunities for escapism!
Etienne Dietzel *1986 in Bad Salzungen, lives in Halle
Displacement, 2021
The erratic boulder is the most common form of erratic block, i.e. a rock that, due to geophysical processes or human intervention, is not located where one would expect it to be. Etienne Dietzel creates erratic blocks by placing digital photographs around a model of a fictitious, 3D-generated rock. The photographs themselves show rock formations where people have inscribed themselves into the landscape through drawings or writing.
FORT, founded 2008
Guilty Flowers, 2018
The work Guilty Flowers by the artist collective FORT is installed at the teardrop-shaped, roundabout in front of the Savings Bank. A wrapped bouquet of flowers in the trash lays the trail to a narrative, a micro drama of everyday life whose protagonists are no longer present. This creates a tension between the sculptural gesture and the questions arising from the strong narrative image.
Laura Leppert *1993 in Henstedt-Ulzburg, lives in Berlin
Crude Oil Acts (Snail Time), 2021
Laura Leppert's work is a site- and season-specific audio piece, accompanied by a text that reproduces a meandering dialogue between two fictional characters. You can download the piece and text to your smartphone via the QR code to the right or through our website. Together they circle questions about urban infrastructure, the stretching and compressing of time, and the emergence of forgotten encounters. As you walk across Reinoldiplatz, the role-play in the text activates a whole other world.
Yoshinori Niwa *1982 in Aichi, JPN, lives in Vienna
Withdrawing Adolf Hitler from a Private Space, 2018
Yoshinori Niwa provokes a reflection on the relationship between private and public space. He places particular focus on historical reconciliation and the attached responsibility of different generations. His old clothes container for the disposal of unwanted or compromising relics from the Nazi era, after stops in Graz, Vienna, Düsseldorf and Cologne, is now located in a place where a store opened in 2019 that sold, among other things, the clothing brand 'Thor Steinar' popular with neo-Nazis.
David Reiber Otálora *1992 in Münster, lives in Berlin
...a long way from home, 2021
The German-Colombian artist deals critically with the representation of the supposed 'other'. Through his site-specific work, he gives Buffalo's plaza a new reading by reinterpreting the cone-shaped architecture of the subway elevator as a teepee, the traditional dwelling of indigenous peoples in North America. The buffalo sculpture in the plaza contemplates with some distance the seemingly romantic sunset motif composed of logos from the fruit trade.
Phung-Tien Phan *1983 in Essen, lives in Essen
Cosmopolitan, 2021
Phung-Tien Phan creates mysterious scenes from everyday observations in her sculptural and cinematic works. In the showcase, she combines cosmic and earthly elements that build a transcendental tension: As a backdrop for the installation, a fantastical world of popular space motifs collides with an altar arranged of plants and other elements, as well as with personal domestic everyday objects. Physical reality on Earth seeks to connect to places beyond our world.
Salon Atelier, founded in 2009
never ever, 2021
Saturdays 18-20 o'clock
Sundays 16-18 o'clock
The Dortmund collective Salon Atelier consists of visual artists, musicians, and actors. Together, they create silent scenes of everyday life for a two-hour city walk each weekend. Their works function as tableaux vivants (living pictures), reminding us of various actions that have become partly foreign to us in the pandemic. They are presented on the second floor behind the shop windows and play with alienation and familiarity, with closeness and distance.
Angharad Williams *Ynys Môn, GB, lives in Berlin & Ynys Mon
Questions, 2021
Excerpt from Eraser, 2020-21
Angharad Williams combines sculptural and text-based elements with performative actions in her installations. Her poster series 'Questions' subtly encourages reflection on behaviour and social structuring. Initially disguised in the graphic noise of urban infrastructure, Williams's work is a subversive gesture that throws fundamental questions at its audience.
Wormhole
Between the lines, 2020 / Wormhole Special, 2021
Wormhole is a newspaper by young artists that reproduces written and visual content as a multilingual platform. It is inspired by the social and political dimensions of the newspaper format as a platform of debate, which encourages the production of collective knowledge and breaks down barriers. While Between the lines presents texts, works, and ideas from the lockdown period, the special is dedicated to the transformation and politics of public space, also referencing Kampstraße.
Featuring artistic contributions by: Mikołaj Sobczak, Alison Yip, Mira Mann, and Anna R. Winder. With texts by: Lisa Tracy Michalik, Carl Brandi, Jonas Schug, Arisa Purkpong, Úlfur Logason, Steven Sander, Alison Yip, Mira Mann and Anna R. Winder, Mikołaj Sobczak.
Graphic design: Thomas Spallek.
Eine Kooperation zwischen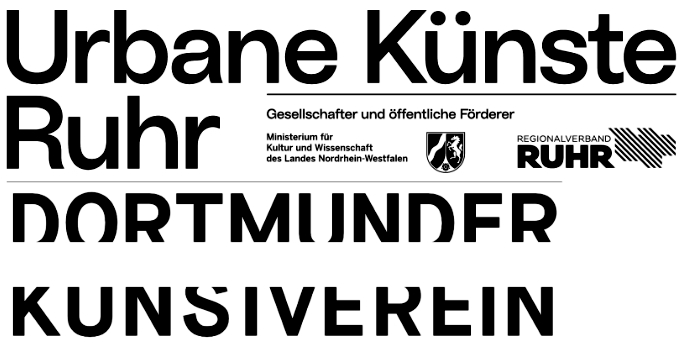 Mit freundlicher Unterstützung von

Besonderer Dank an

Up