DISPLAY. Staging Identities
Johannes Paul Raether, Victoria Sin, Mikołaj Sobczak, Philipp Timischl
15. Juni bis 18. August 2019
>> Please scroll down for English version
Die von Performances und Filmen begleitete Gruppenausstellung DISPLAY. Staging Identities zeigt zeitgenössische künstlerische Arbeiten über "Drag". Ursprünglich bezeichnet der Begriff das Auftreten im Gewand des jeweils anderen Geschlechts, wobei ein Charakter angenommen oder eine eigene Identität entwickelt wird. Obschon dadurch allen Formen von Drag die Hinterfragung konventioneller Geschlechterdefinitionen gemein ist, lässt sich zunehmend deren Aufweichung und die Erstarkung geschlechtsneutraler Rollen beobachten.
Bei Johannes Paul Raether (*1977 in Heidelberg, lebt in Berlin), Victoria Sin (*1991 in Toronto CA, lebt in London), Mikołaj Sobczak (*1989 in Posen PL, lebt in Münster) und Philipp Timischl (*1989 in Graz, lebt in Paris) begegnen wir unterschiedlichen Auseinandersetzungen mit dem Konzept von Drag: Es findet Widerhall als Werkzeug der Selbstermächtigung, als Möglichkeit einer immer wieder neu zu erfindenden Identität sowie als Vehikel zur Hinterfragung und zur Überwindung sozialer Klassen, (hetero)normativer Vorstellungen und bestehender Geschichtsschreibung.
Kuratiert von Linda Schröer
MI, 12. JUNI, 18:00 UHR:
WORK IN PROGRESS
für Mitglieder und Förderer des Dortmunder Kunstvereins
FR, 14. JUNI, 19:00 UHR:
ERÖFFNUNG
Begrüßung: RAuN Dr. Matthias Wiese (Vorstandsmitglied)
Einführung: Linda Schröer (Kuratorin der Ausstellung)
20:00 Uhr: PERFORMANCE
Nicholas Grafia und Mikołaj Sobczak: It's 10PM. Do You know where your children are?
Mittels collagierter Textfragmente, Choreografie und Kostümen erzählen Grafia (*1990 DE/PHI/USA) und Sobczak (*1989 PL) von öffentlichen und intimen Situationen des sozialen Widerstandes marginalisierter Subjekte.
LA DERNIÈRE SÉANCE #10
DO, 04. JULI, 19:00 UHR:
19:00 Uhr: AusstellungsFÜHRUNG im Dortmunder Kunstverein
20:15 Uhr: FILMvorführung Victor/Victoria (1982, 134 Min, US), Regie: Blake Edwards, Ort: Schauburg, Brückstr. 66
LA DERNIÈRE SÉANCE #11
DO, 25. JULI, 19:00 UHR:
19:00 Uhr: AusstellungsFÜHRUNG im Dortmunder Kunstverein
20:15 Uhr: FILMvorführung ONE ZERO ONE - The Story of Cybersissy & BayBjane (2013, 90 Min, D), Regie: Tim Lienhard, Ort: Schauburg, Brückstr. 66
In Kooperation mit dem Lichtspiel und Kunsttheater Schauburg, Brückstr. 66
FR, 2. AUGUST, 20:00 UHR:
PERFORMANCE
ADAM CHRISTENSEN (*1979 UK): I wanna be lonely
Christensen kombiniert Live-Akkordeonmusik mit persönlichen Erinnerungen zu einer verführerischen Erzählung. In englischer Sprache
WORKSHOPS
mit Matthias Zahlten für Kinder und Jugendliche ab 14 Jahren
MO, 5. AUGUST, 11:00-18:00 UHR:
Das Geschlecht der Kleidung
MO, 12. AUGUST, 11:00-18:00 UHR:
Be whatever you want to be
Teilnahme: kostenlos
Anmeldung unter info@dortmunder-kunstverein.de
SO, 18. AUGUST, 11:00-15:00 UHR:
VIDEOPREMIERE Mikołaj Sobczak: New Kingdom, 2019
anschließend: KÜNSTLERGESPRÄCH
Freier Eintritt zu allen Veranstaltungen!
Die Ausstellung wird unterstützt von: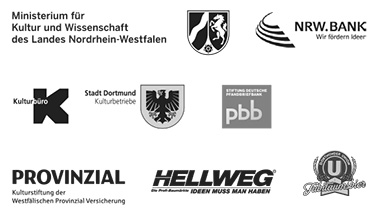 Focussing on the topic of drag, the group exhibition DISPLAY. Staging Identities shows contemporary artistic positions accentuated by performances and movies. Drag describes one's appearance in the attire of the opposite gender, whereas every performer usually takes on a character or creates their own fixed identity. Though all forms of drag have the subversion of conventional gender definitions in common, their blurring and reinforcing of non-binary or even gender-neutral roles can increasingly be observed. The four artistic positions visualise that drag is capable of more and is about going beyond the scrutinising of conventional gender definitions. They utilise drag as a tool for self-empowerment, as a means to reinvent an identity time and time again as well as questioning and overcoming social class, (hetero)normative concepts and existing historical narrative.
Mikołaj Sobczak (*1989 in Posen PL, lives in Münster) analyses political and socio-historical events, focussing on current global and social tendencies, for example the right-wing populist movements in Europe. Here, drag queens play a central role: as founding mothers of a new state, as a suggestion to overcome the crisis of masculinity in society or as witches, exorcising clerics.
Johannes Paul Raethers (*1977 in Heidelberg, lives in Berlin) work relies mainly of performances. So far, his WorldWideWitches are formed by his SelfSisters Transformellae, Protektoramae and Schwarmwesen, which can be perceived as their own, androgynous research units. For example, Transformellae work on a reprovolution, a queer utilisation of biotechnological advancements.
Victoria Sin (*1991, in Toronto CA, lives in London) also understands the human body as a module for opportunities to design alternative presents and futures. Their confident performances as well as video pieces emphasize on the absence of women in cultural contexts and broach the issue of objectification, prying glances and strategies of representation which use the previous to empower themselves.
Philipp Timischl (*1989, in Graz, lives in Paris) takes up the original idea of drag as a tool to overcome social class in his mostly autobiographic, multimedia works. Among other things, he is evocative of the ballroom culture in New York in the 1980s, where protected spaces were founded wherein ethnicity, class, gender and sexual orientation were of no importance and families were founded regardless off consanguinity.
Drag appears as an antidote against homogeneity and the occupation of individual bodies by society. Drag is a chance and at the same time a plea for insight, self-awareness and positioning, a token of solidarity for the importance of queer ways of life. Drag exposes the potential and the negotiability of reality and therefore forms a counter concept to liberate our current society.
>
NACH OBEN